MEE Audio M6 Pro G2 Universal Fit Noise Isolating In Ear Monitors PAIR Blu
Dj Lighting Recording Production Live Sound Truss Packages Accessories MEE Audio M6 Pro G2 Universal Fit Noise Isolating In Ear Monitors PAIR Blu MODEL: BPKG-M6PRO2BL-PAIR BRAND: Digitaldjgear Description This package from Digital DJ Gear includes: 2x Mee Audio M6 Pro 2 Blue In Ear Monitors Building upon the success of...
OR
Description
MEE Audio M6 Pro G2 Universal Fit Noise Isolating In Ear Monitors PAIR Blu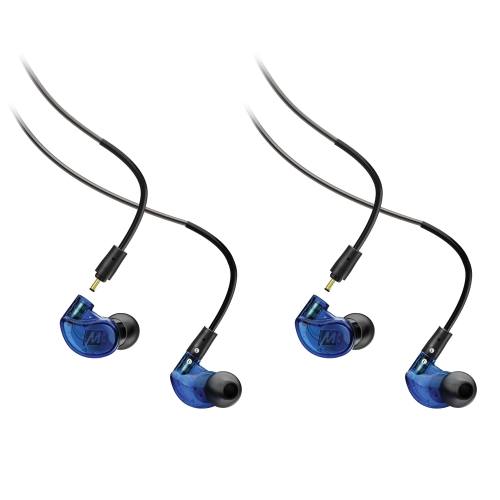 MODEL:
BPKG-M6PRO2BL-PAIR
Description
This package from Digital DJ Gear includes:
2x Mee Audio M6 Pro 2 Blue In Ear Monitors
Building upon the success of the original M6 Pro monitors, the smoke MEE audio M6 PRO Universal-Fit Noise-Isolating Musician's In-Ear Monitors with Detachable Cables are designed for musician's and audio enthusiasts for long listening sessions while on-stage, at home, or on-the-go. The second-generation design offers a refined tuning above 2 kHz for an even more accurate midrange and smoother, more natural treble. Connection points and other hardware have been redesigned for the 2nd generation model to improve toughness under harsh conditions.
The M6 PRO utilize 10mm dynamic moving-coil drivers to deliver deep bass and clear highs with a frequency response of 20 to 20,000 Hz, a 16-Ohm impedance, and a sensitivity of 100 ±3 dB (1 mW at 1 kHz). It can handle a maximum power input of 30 mW, and the detachable headset cable includes an omnidirectional microphone for making calls, as well as a media remote and volume control (iOS & Android compatible). The headphones provide a secure over-the-ear fit and an in-ear design, which reduces outside noise. The Mee audio M6 PROs include an audio cable, a headset cable, a protective carrying case, a set of Comply T-Series foam eartips, six sets of silicone eartips, two shirt clips, and a 1/4″ adapter.
On eBay we require payment within 72 hours of making a purchase. We want our customers to be sure of their purchases and we allow the window for you to reach out and ask us any questions about the item that you're unsure of. Whether it be about a warranty, connectivity, of if this is the best item for you. Our staff is standing by at all times to answer your questions.
Shipping
Most orders ship within 1 business day of payment, unless otherwise noted on the product listing. We send all shipments with a tracking number, which is automatically emailed to your address used when placing the order (or on your existing account with us). We ship worldwide!



*Standard shipping times for items leaving our warehouse via UPS.
Returns
Digitaldjgear accepts returns within 30 days of your purchase whether it be that the item just wasn't quite what your looking for or if there's an issue that has arisen with it. We extend this window for defective items depending on the issue and product. Please feel free to reach out to us at any time after your purchase for help with manufacturer defects. If we can't replace it we'll set you up with the manufacturer for a repair.
Please note that on international orders a lot of items are not under warranty outside the United States. If there is an issue with a product purchased on eBay from outside the USA the customer is responsible for paying to have the item shipped back to Digitaldjgear for any replacement or repair needed. We cannot create return labels for international orders.
This return policy does not apply to software as the codes are non-refundable. This also does not apply to Headphone products or parts as it can be a health hazard.
About Us
DigitalDJGear is a small business built by DJs, for DJs. We know you may have seen this phrase thrown around the web before, but then you ask a technical question and get a copy and paste specification as a reply, or even better… a "huh"? That won't happen here.
At DDJG, we are industry veterans and we KNOW gear. We have actually used or tested the majority of items that we sell. Since we pride ourselves on our experienece and knowledge, we only want to offer you products that we truly stand behind so we've hand selected the brands and products that we carry.
We also understand that when you need something you want it to be hassle free, so every product you see in our listings is 99.9% IN STOCK in our warehouse. Our inventory system is updated daily, so please make sure to check back often for new products and restocks… especially if you don't see what you are looking for.
It's truly an amazing time for the DJ world, and technology continues to grow faster than we can keep up at times! For tips, reviews, and all the latest in gear make sure to subscribe to our blog and newsletter.
– DDJG
Contact Us
Please feel free to reach out to us at any time through the eBay messaging system and we will get back to you within 24 hours, usually much faster. Our representatives are standing by to answer your questions and make you feel at ease with your purchase from Digitaldjgear.
Additional information
| | |
| --- | --- |
| Weight | 1 lbs |
| Dimensions | 6 × 6 × 6 in |